GEORGES BIZET'S THE PEARL FISHERS:
WHEN EAST MEETS WEST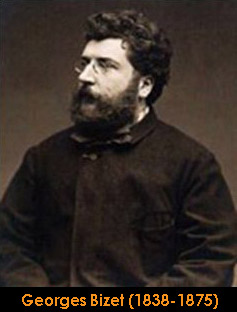 Introduction
Bizet's first opera written when he was 25,
The Pearl Fishers
, dates back to 1863 with a libretto written by Eugène Cormon and Michel Carré. It received a very warm welcome from the start at the Théâtre Lyrique du Châtelet in 1863, mainly because of its colourful and exotic orchestration. 12 years later, Bizet produced another well known opera, Carmen. Both of them are still performed regularly attracting large audiences wherever they are staged.
Synopsis
The Pearl Fishers
is a tragic love story in a luxuriant exotic location bearing the name of Ceylon (former name of Sri Lanka) with the following main characters: Zurga, the elected leader of a fisherman's village; Nadir, a close friend of Zurga; Leila, a priestess loved by both Nadir and Zurga; Nourabad, the high priest.
Nadir and the priestess Leila acknowledge one night their love for one another, but they are unfortunately caught by the high priest. Having broken her vow of chastity, Leila is condemned to death as well as Nadir, responsible for Leila's corruption.
Though Zurga, still in love with Leila, feels betrayed in his friendship, he however discovers that he owed his life to Leila who saved him from death long ago. He decides to allow the two lovers to escape and sets fire to the village as a diversion. But the high priest, Nourabad, discovers the whole plot and orders to kill Zurga.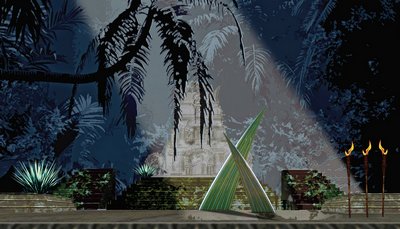 Cast:
Conductor: Martin Wettges
Stage director: Gérard Sullivan
Chorus director and artistic coordinator: Katrin Caine
Choreography and costumes: Anna Patten and Sanedhip Bhimjee from Art Academy
Sets and lights: Eelco de Jong

Leila: Véronique Zuël-Bungaroo
Nadir: Francesco Petrozzi
Zurga: Matias Tosi
Nourabad: Prof. Michael Schopper

Choir: Magoakan Choir and members of the Chorus of the Bayerische Staatsoper, München
Orchestra: Cape Philharmonic Orchestra


About this opera
Several beautiful arias, duets and ensembles can be appreciated in this opera which was staged in London for the first time in 1887 under the title of
Leila
. Most memorable is the first act duet between Zurga and Nadir which, still today, is considered as one of the most beautiful and popular in operatic literature.
Other beautiful duets and arias are:
- "Au fond du Temple Saint" (Nadir & Zurga, Act 1)
- "Je crois entendre encore" (Nadir, Act 1)
- "Comme autrefois" (Leila)
- "L'orage, s'est calmé" (Zurga, Act 3)
Former interpretations
During the long and interesting history of bel canto in Mauritius, Bizet's The Pearl Fishers has been
performed only twice
, each time with a different approach.
Read the complete history of lyrics arts in Mauritius by Robert Furlong.